Caithness Tour Itinerary Day Three
3 July 2022
Category: Tour Itinerary
Caithness Tour - Day Three
On Day Three of your tour of Caithness you can discover a rare geological feature, incredible beaches, more brochs (naturally) and how Caithness featured in the Netflix series "The Crown".
For access information and other details about each site mentioned here, check out our Adventure map on this website. Just click on the links.
Keiss Beach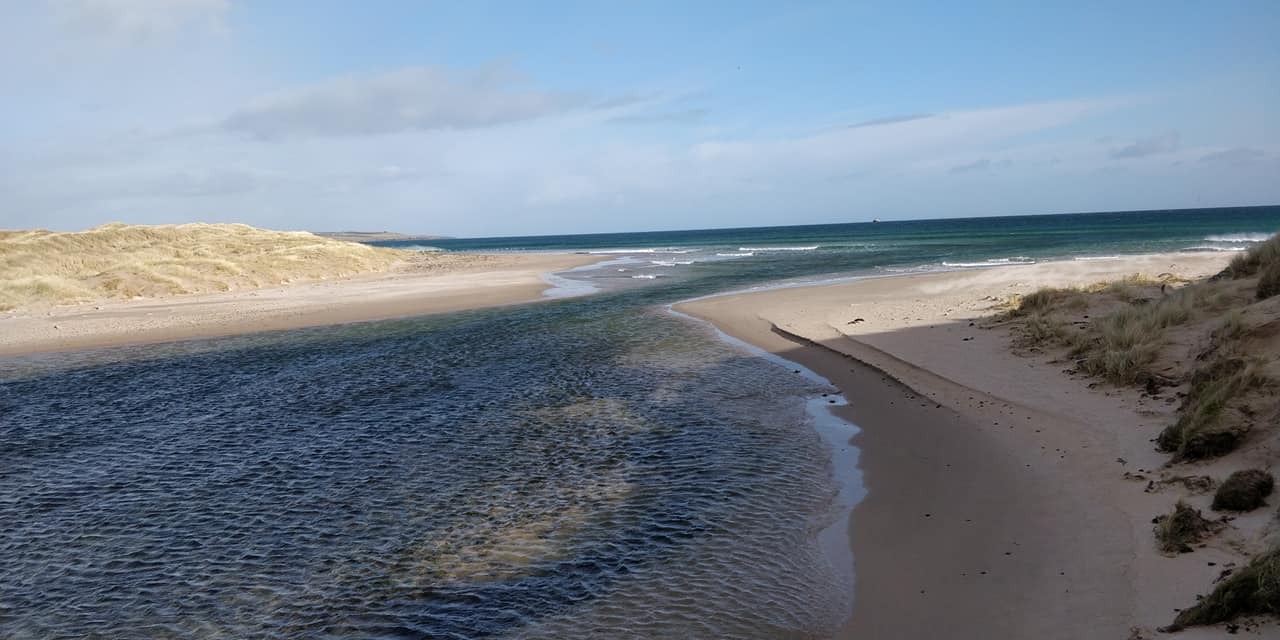 Stay on the North Coast 500 (NC500) route (A99) north out of Wick and you'll get to Keiss Beach.
This is the longest beach in Caithness and is very popular with dog walkers, ramblers, runners, kite-surfers, and nature-spotters. It's a perfect place to blow the cobwebs away and enjoy the waves of the North Sea lapping the shoreline.
If you're feeling energetic you can take a longer stroll across Reiss Sands. You need to cross a small and shallow stream (we call it a "burn") - waterproof shoes or wellies will help you here! This is the point where Keiss Beach becomes Reiss Sands giving you 5 Km of beautiful beach to walk.
WW2 defences can be spotted beside the parking spot as a reminder of the strategic importance of this beach. Look out to Sinclair's Bay and you might be able to see the remains of a sunken vessel. That's the German destroyer V81, which was badly damaged at the Battle of Jutland in 1916. The wreck lies just below the surface and sometimes parts are exposed on the shore at low tide!
You're never far from a Broch
The scant remains of 'Castle Linglas' or Wester Broch can be spotted just to the west of the stream which separates Keiss Beach from Reiss Sands. The broch was excavated by noted Caithness antiquarian Francis Tress Barry in 1908.
Keiss
The village of Keiss is situated in the beautiful Sinclair's Bay and has a wonderful, historic harbour. Paths link you to the beach on the south side and the historic Keiss Castle and brochs to the north.
The village of Keiss (meaning 'ridge' in Norse), has a history stretching back thousands of years - the three brochs to the north of the village are testament to this. (Check out our Adventure map on this website for more information.)
Walking down the main street towards the harbour, the top of the hill gives amazing views of Sinclair's Bay. Looking out you can see Noss Head lighthouse, Sinclair and Girnigoe Castle, as well as Ackergill Tower.
To access the castle and brochs, make your way down towards the harbour and follow the right of way through Sinclair Bay Glamping Pods.
Didn't you say there was a Netflix Connection?
We did and it's Keiss Harbour.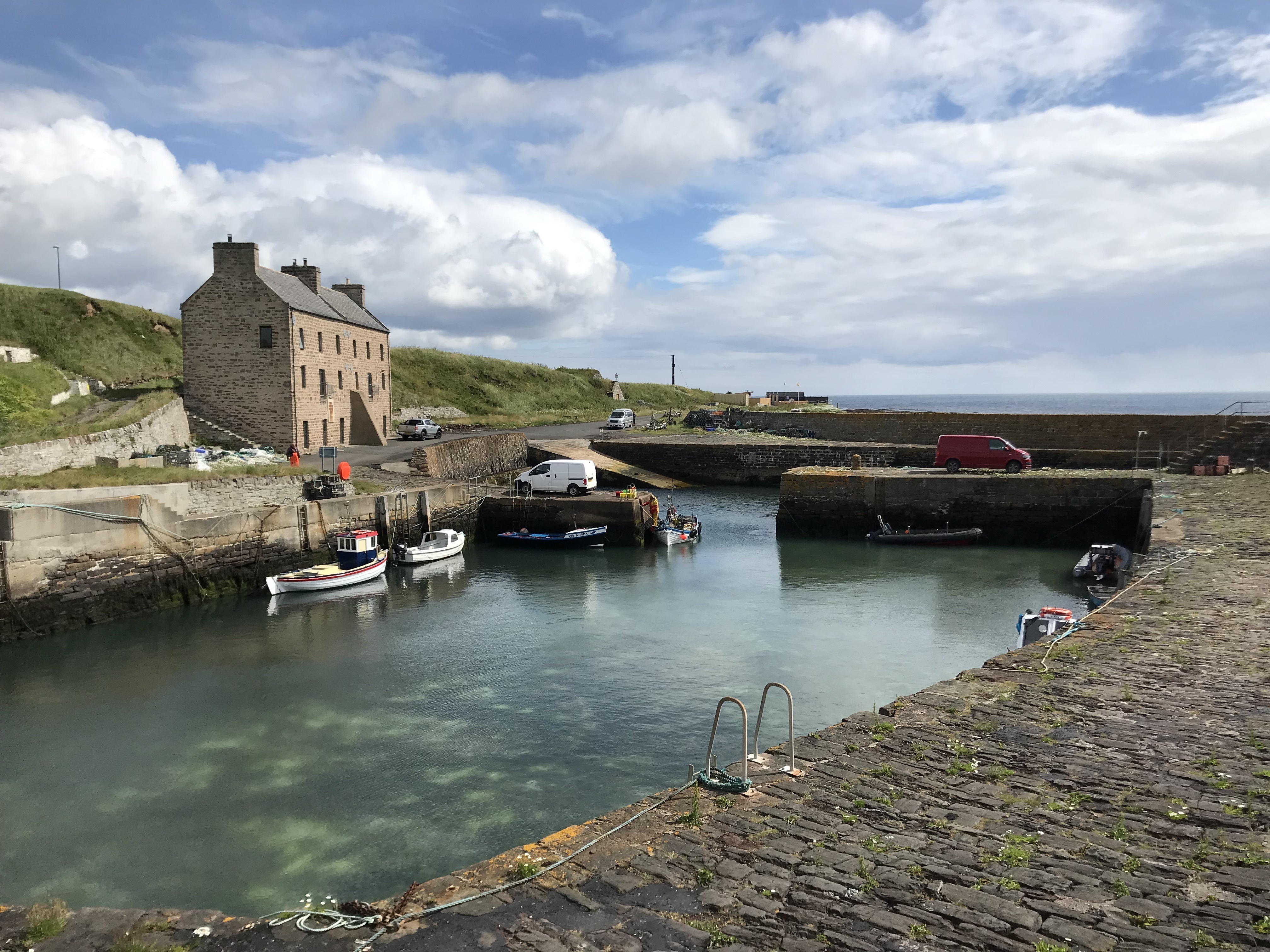 It was used in the TV series to double as Mullaghmore (County Sligo) where Lord Mountbatten was killed by the IRA in the 1970's. And there's another Netflix "Crown" connection at Lybster Harbour. It was used to double as Port Stanley in the Falklands.
We promised you more Brochs….and a castle
Kirk Tofts Broch
Kirk Tofts Broch is a fantastic example of what's known as a first-phase broch built between 100 BC to AD 100. Inside you can see a well-preserved corbelled cell, a stone tank, and a small underground chamber. There are also a large number of structures surrounding the central, circular broch: these were additions to the original tower, although we don't know much about which period they were built.
It was first excavated by Samuel Laing in 1866, and then further excavated by John Nicolson and Sir Francis Tress-Barry who lived in nearby Keiss House. You can read more about these early antiquarians in other blogs on this website.
Nybster Broch
An impressive broch with a surrounding settlement which would have been built over a number of different periods. Located at Auckengill, Nybster Broch is one of the easiest of its kind to visit in Caithness. Take a short walk along the coastal path and admire both the archaeology and the beautiful views!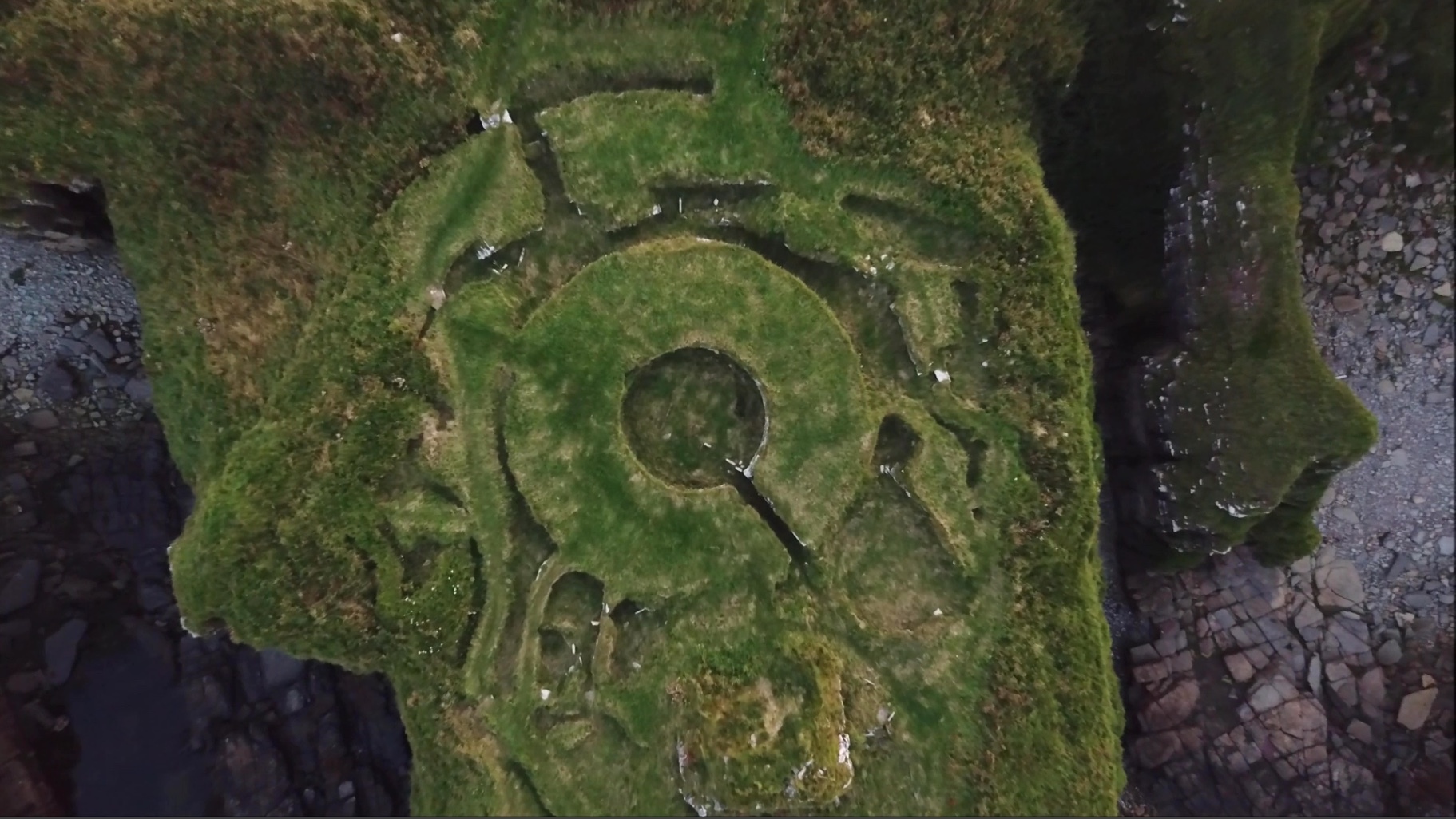 The site was re-excavated in 2005 and again in 2011 as part of a community archaeology project. Interestingly, those in 2011 revealed an occupation layer underneath the broch itself, suggesting that it was built on an already inhabited site – although for how long remains a mystery.
Near to the broch are a number of monuments created for Tress Barry, with carvings created by John Nicolson, his foreman.
Despite Nybster's northerly location, Roman artifacts – including a decorated pottery bowl and a faience bead – have been found at the site. How might they have got there?
Bucholie Castle
Bucholie Castle is perhaps one of the most picturesque – yet perilously perched – castles in Caithness! A brilliant 'hidden gem', this castle is one of several dotted along the east coast of the county.
The present building you see is around 600 years old but it may have been occupied for even longer. It's also thought this could have been the home of the 'Ultimate Viking': Sweyn Asleifsson. Sweyn was a man whose daring deeds and raids across the west of Scotland earned him an unfavourable reputation with Earl (or Jarl) Rognvald, the ruler of the Orkney Islands.
The Mowat family were granted the castle and the lands of Freswick by King Robert the Bruce. They remodelled it and named the castle Bucholie after their estate in Aberdeen. Bucholie Castle remained in the Mowat family until 1661 after which it fell into disrepair.
Did you know?
It is said that the modern day Swanson Clan can trace their ancestry to Sweyn Asleifsson!
Ness Broch
An unusually small, solid-based broch positioned on a natural promontory overlooking Freswick Bay. Ness Broch was also used as a hideout by our "ultimate Viking" friend – Sweyn.
The broch has been heavily weathered, and substantial erosion has occurred to the promontory itself, such that features are difficult to recognise.
Ness Broch is mentioned in the Orkneyinga Saga under the name 'Lambaborg', in 1143 – supposedly where Sweyn Asleifsson stood siege.
Freswick Beach
A wee hidden gem of a beach – with plenty of archaeology and history nearby: in addition to having a wonderful tower house castle and the scant remains of a broch, Freswick was the site of a Norse settlement.
Freswick Castle has been used as the filming location for a locally-produced horror film, "Playhouse". Local indie band Neon Waltz have also filmed several videos at the castle.
Wifie's Geo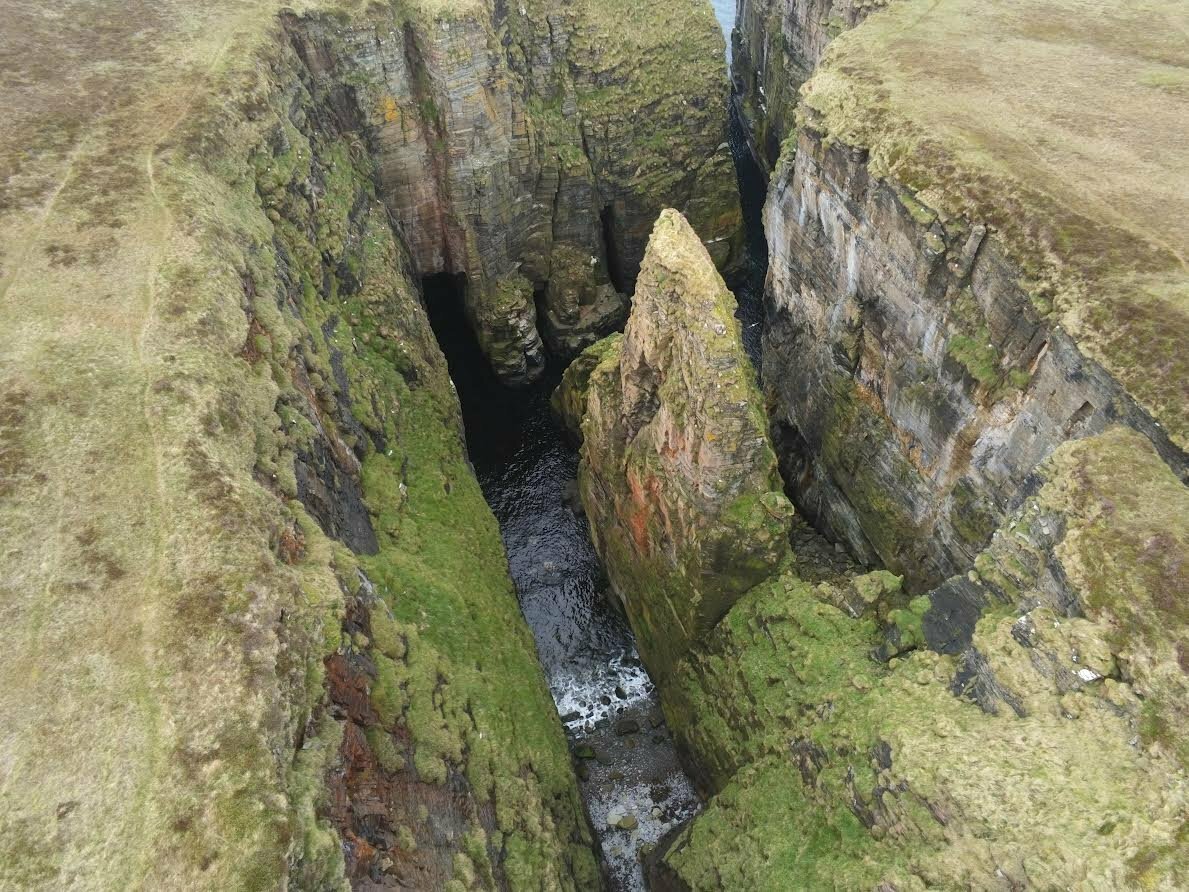 A 'geo' derives from Norse, and refers to a typical feature of Caithness geology: a deep ravine in the cliffs, where the sea cuts its way through a narrow cleft in the coastline.
Wifie's Geo is an extremely rare geological occurrence known as a "locked" sea stack. In fact, it's Scotland's only example of a "locked" sea stack. Over time, the sea has cut a deep, narrow cleft through the rocky coastline, bringing the sea inland, within which is a massive sea stack surrounded on all sides by towering cliffs and crashing waves below.
It's a dramatic and awesome place only made better by its remoteness, which gives the sense of visiting somewhere few have been lucky to experience.
The cliffs that make up the coastline were formed 360 million years ago, as sediment built up from a huge lake dubbed Lake Orcadia. In some places this ancient red sandstone layer is up to 4km deep!
Duncansby Stacks
Simply put Duncansby Stacks are among Caithness' premier attractions! These stone pyramids rise up from the sea like great giants, stretching towards the sky, as seabirds swoop and circle overhead. A must-see, and one which lives in the minds of all those who visit for many years after.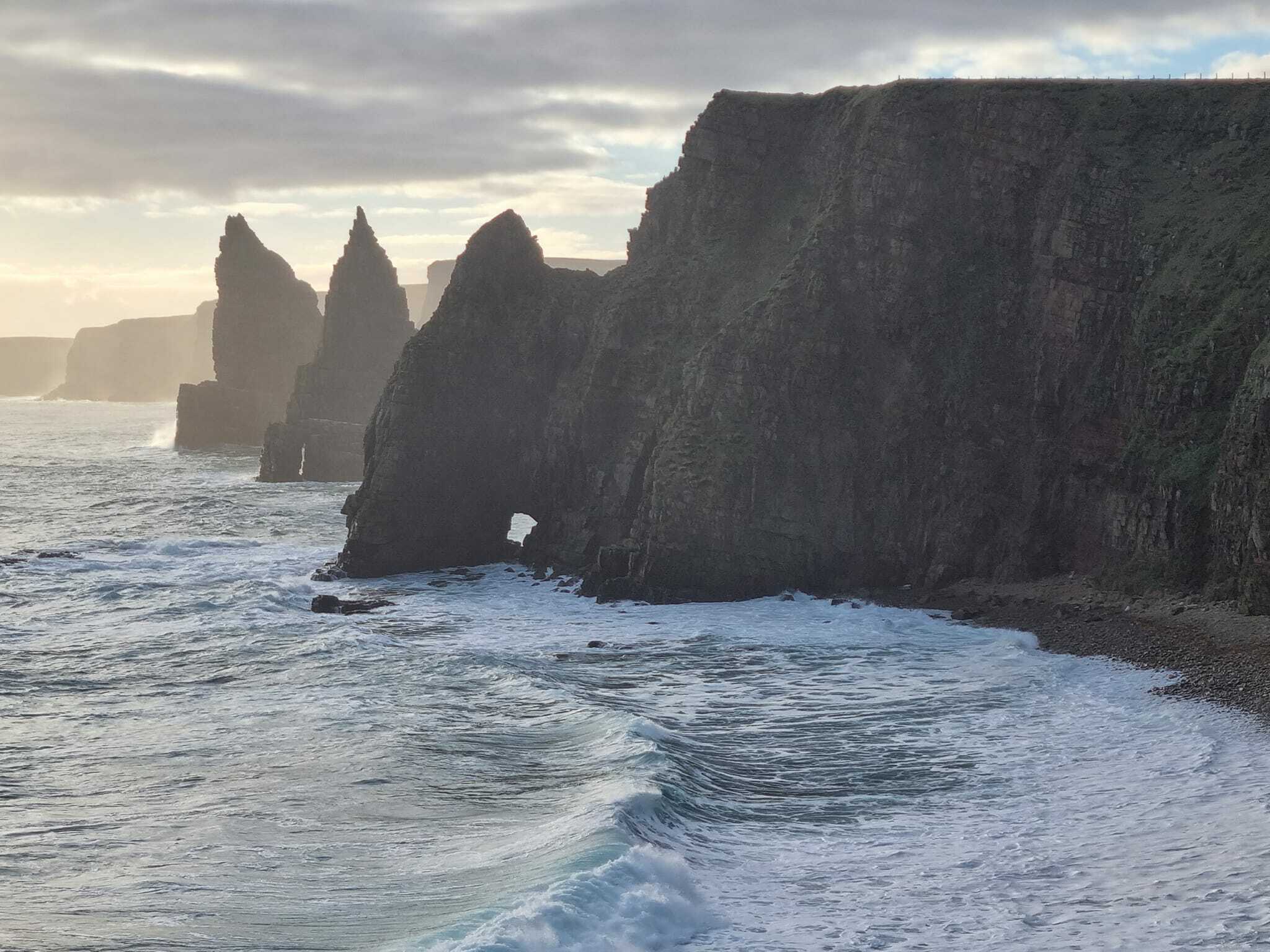 Wild life abounds, from seals to dolphins, and a plethora of sea birds. You can enjoy spotting fulmars, kittiwakes, guillemots, razorbills, skua, and even the occasional puffin.
From Duncansby Head you're looking out over the treacherous waters of the Pentland Firth. Well known for strong tides and gale force winds, the Pentland Firth has been the site of many ship wrecks. The tides are some of the strongest in the world, creating violent and dangerous tidal 'races' - fast moving tides channelled through narrow passages.
The first stack you see is still partly attached to the mainland, with an arch in the bottom known as Thirle Door. Two freestanding sea stacks stand majestically beyond, and further beyond this is 'Wife Geo'.
Sannick Bay
Forming part of an incredible stretch of coastline to the east of John O'Groats, Sannick Bay is a beautiful secluded beach with views over to the island of Stroma in the Pentland Firth and Orkney beyond. Keep an eye out for passing orca in the summer, and seal pups in the winter!
This beach is full of geological wonders: looking to the east you will see sedimentary Caithness stone, whereas to the west there is sandstone.
John O'Groats
This famous village is a major milestone on the North Coast 500 (NC500). John O' Groats marks the northernmost point of the main trunk road network in the UK and is sometimes referred to as "the village at the end of the road".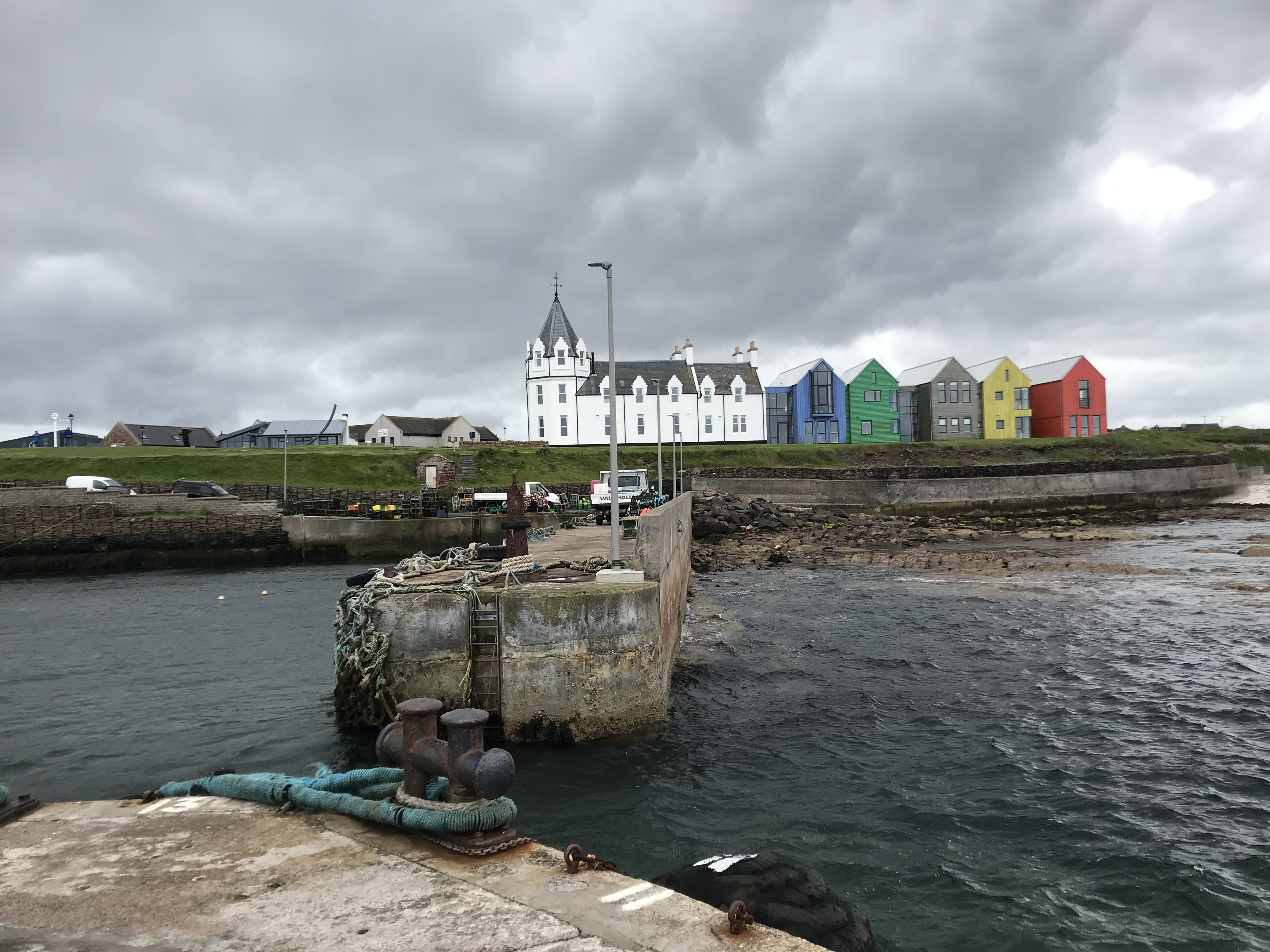 There are various accommodation offerings here, as well as eateries and tourist shops, and of course the ever-popular signpost for photographs!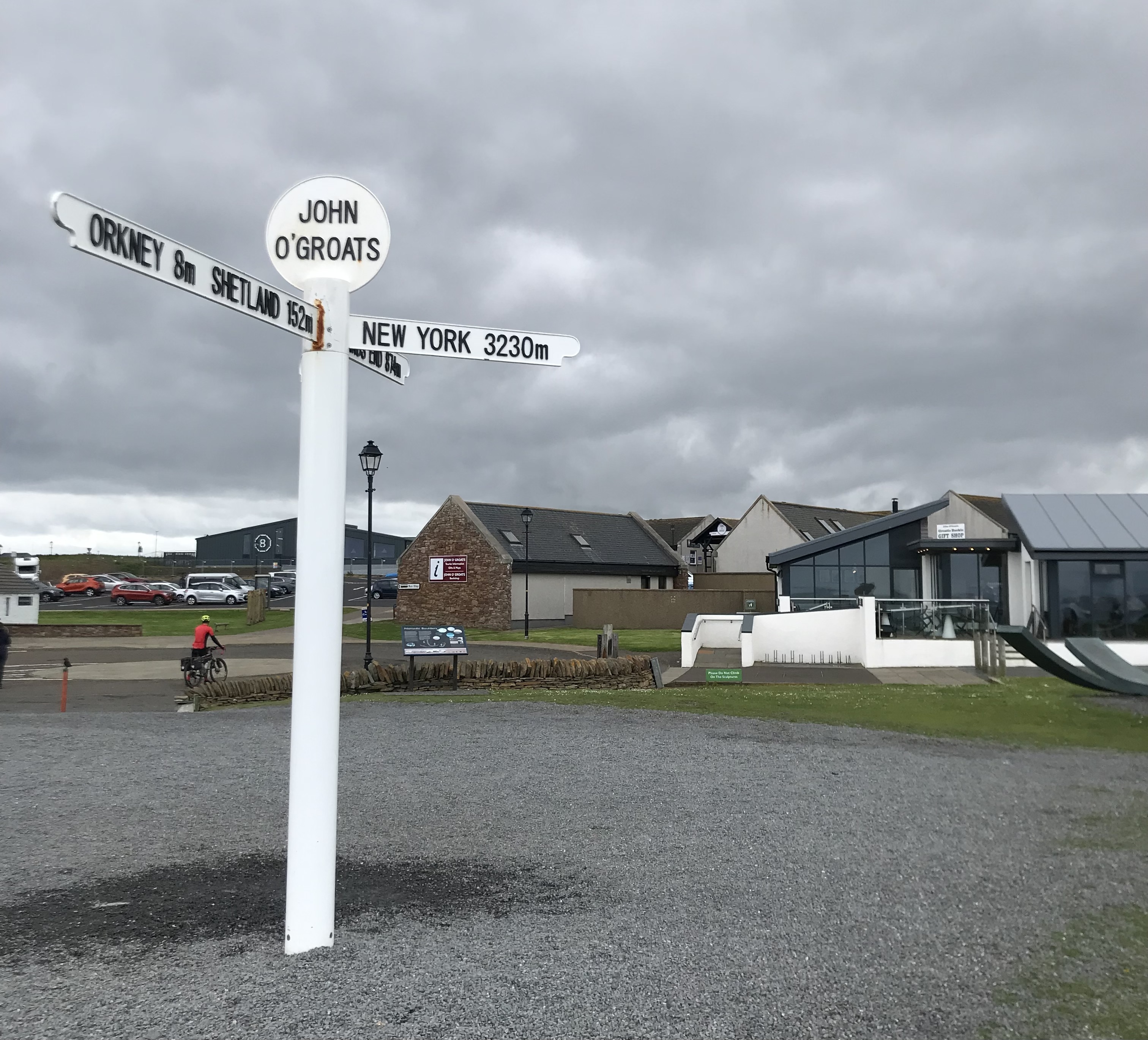 You might even encounter hardy souls who have just completed – or are about to start – their own "end to end" journey from/to Land's End.
Finish your day here appreciating Caithness' big skies as the sun sets across the Pentland Firth, or make your way along to Duncansby Head for more awe-inspiring views.