Allow yourself to be transported to Caithness, 2000 years in the past…
Imagine wandering an unfamiliar environment: an undulating, gentle landscape bound between the dark hills of the south and west, and the crashing northern seas. Here the people of the Cat hold sway, where they make their presence known. Great stone towers bathed in golden light against dark skies, intimidating sentinels set adrift in plains of heather: these are the brochs of Caithness…
We are the Caithness Broch Project, and we want to do something that hasn't been achieved in nearly 2000 years… we want to build a broch!
We've worked closely with historical reconstruction artist and illustrator Bob Marshall to develop the design of our broch, check out our Interactive Broch to see the full details.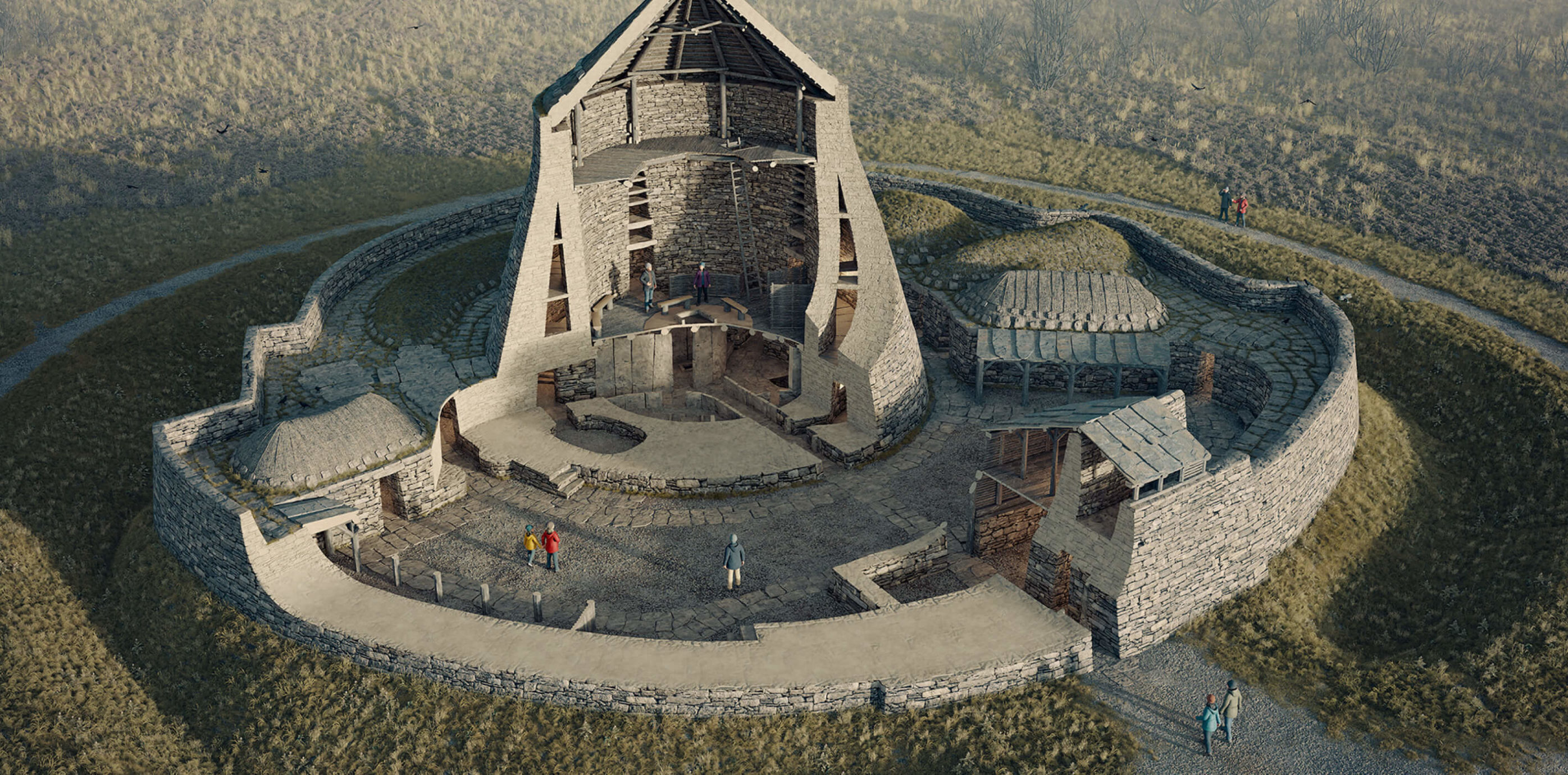 First of all though, what is a broch?
Brochs are Iron Age structures unique to Scotland. Built over 2000 years ago – between 400 BC and 100 AD – they are regarded by many as the 'pinnacle' of ancient British architecture, and Caithness can lay claim to having more brochs than anywhere else in Scotland.
The purpose of these buildings has been much debated: it is thought that they were dwellings of some description, perhaps for a chieftain, or for a number of families. Certainly, it can be agreed that these were impressive buildings, with some reaching up over 13 metres in height, and they would have had an imposing presence on the landscape.

If you would like a more detailed description of what a broch is and what their purpose was, then have a read of our main description here.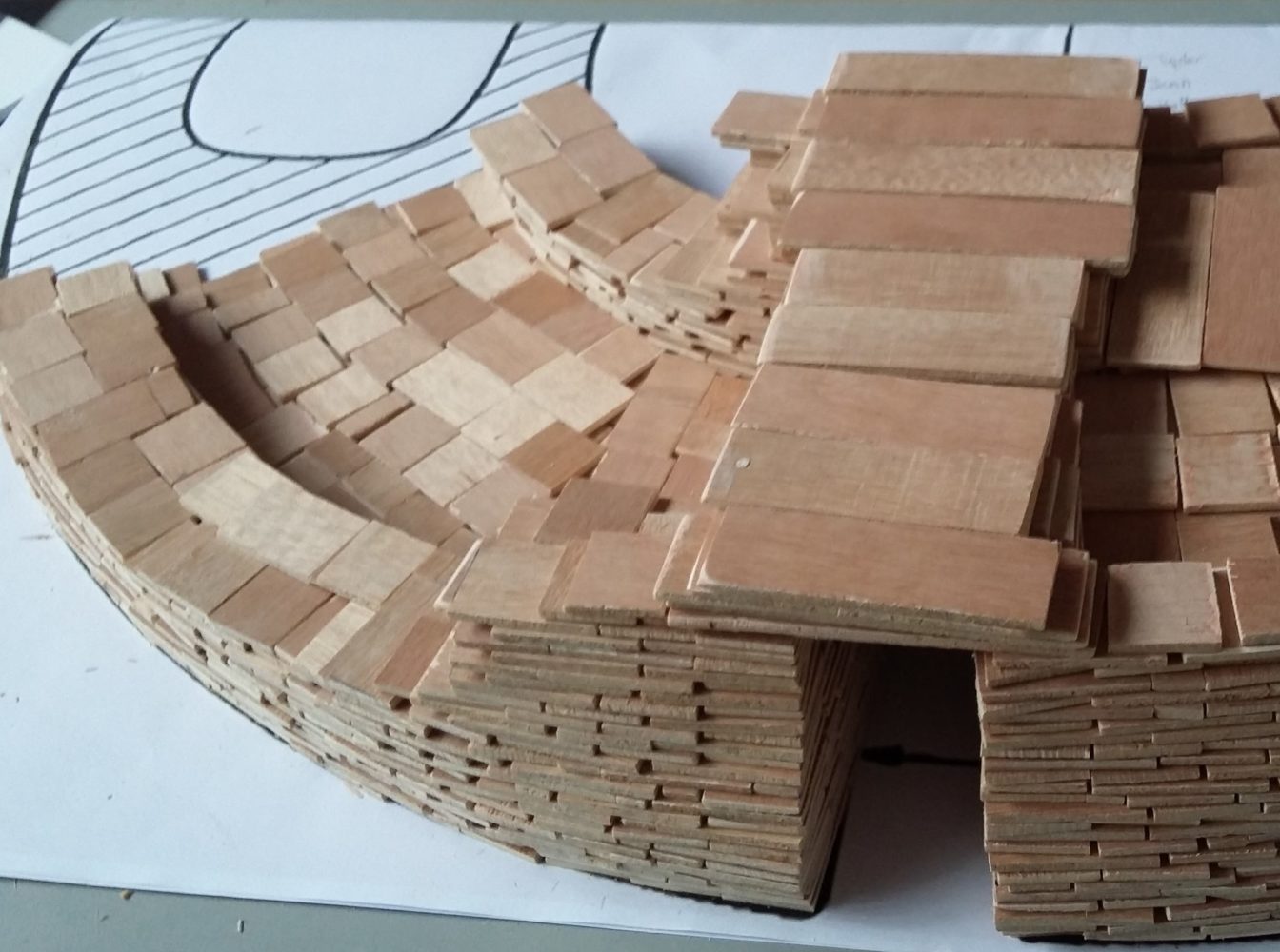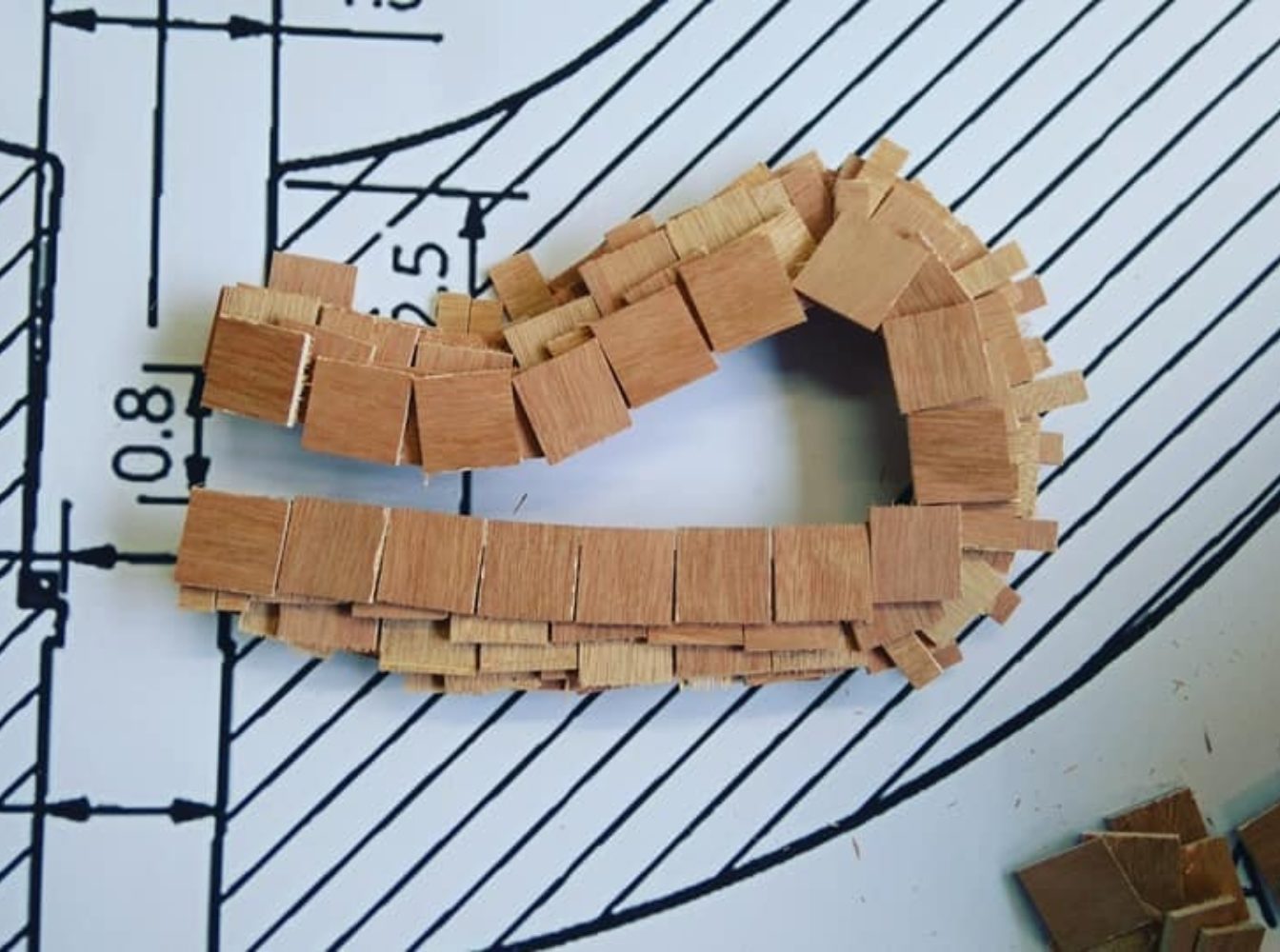 But why do we want to build a broch?
There are several reasons why we have been working towards the construction of the first broch in Scotland in nearly two millennia.
Caithness has a higher concentration of broch sites than any other area in Scotland and we believe that this gives the region a distinctive story to tell. But this isn't just an opportunity to tell Caithness' story, this is a chance to weave narratives around formation of prehistoric Scotland too. Brochs can be found across the country, after all!
The construction of a replica broch allows us to engage with the past on an unprecedented level. By attempting to build this structure as authentically as possible – working with tools of the past and using techniques familiar to our Iron Age ancestors – we gain a deeper understanding of how the brochs were built. This helps to answer difficult archaeological questions, which can only be answered by getting 'hands on' with our past. This is, in a sense, a major experimental archaeology project!

Once the structure has been completed, we want to furnish it with items and 'furniture' of the time, as well as employing re-enactors and craftspeople to showcase what life was like over 2000 years ago. Imagine entering, hearing the hearth fire crackle as you are beckoned deeper into the broch, your guide beguiling you with tales and traditions thousands of years old! The activities and stories would fascinate tourists and locals alike; and we would also hope to inspire local schoolchildren, as well as students from all over Scotland, with a vivid 'living history' experience. We believe our broch will be of interest both to the casual tourist and to those with a strong interest in archaeology either as a hobby, an academic pursuit, or a profession – something everyone can not only appreciate, but can learn from, and be inspired by.
The construction of a replica broch has myriad other benefits: It will provide employment, from the construction phase and long after the building has been completed. During construction, the use of Iron Age techniques will provide opportunities for people to train in historical conservation building techniques such as drystone dyke building, or other traditional and craft skills such as smithing, weaving, carpentry, jewellery-making, leather-working, knitting, crop-planting and perhaps even animal husbandry! The Broch Project intends to continue providing these techniques for both visitors and those wishing to learn particular crafts, long after the broch is complete, with the building of a broch village and other prehistoric structures meaning the construction phase can continue into the future, and overlap with maintenance and repair.
Perhaps most importantly, the broch will serve as a major tourist attraction for an area which is facing challenging circumstances. The area is forecast to lose over 20% of its population in the next twenty years, and now must consider diversifying its employment sector to new and sustainable forms of economic activity. The broch will not only help to provide jobs, but will also help to bolster the local tourist economy – vital in ensuring there is opportunity for individuals and families within the region.
And of course… well, come on, it would be pretty cool, wouldn't it?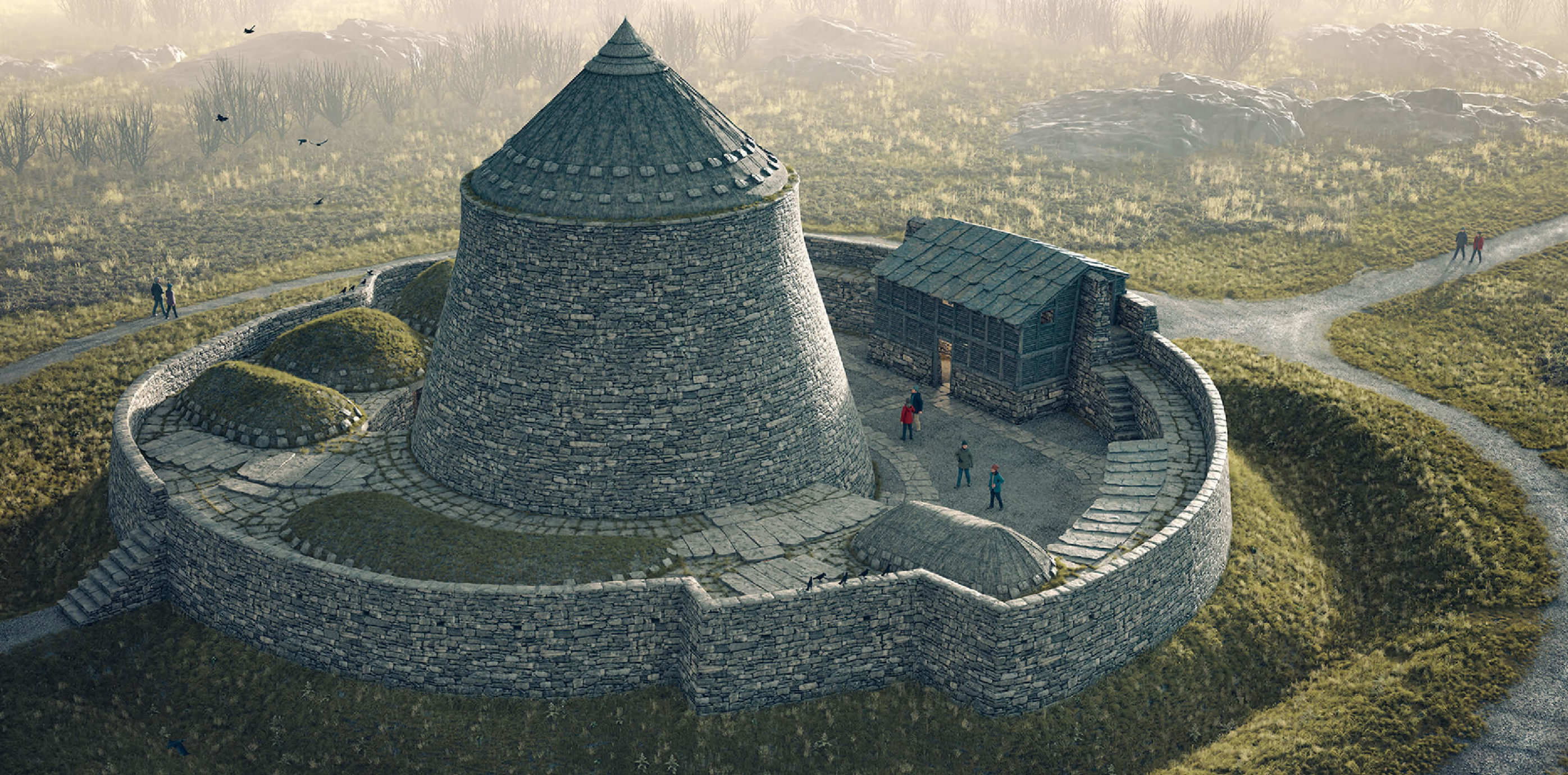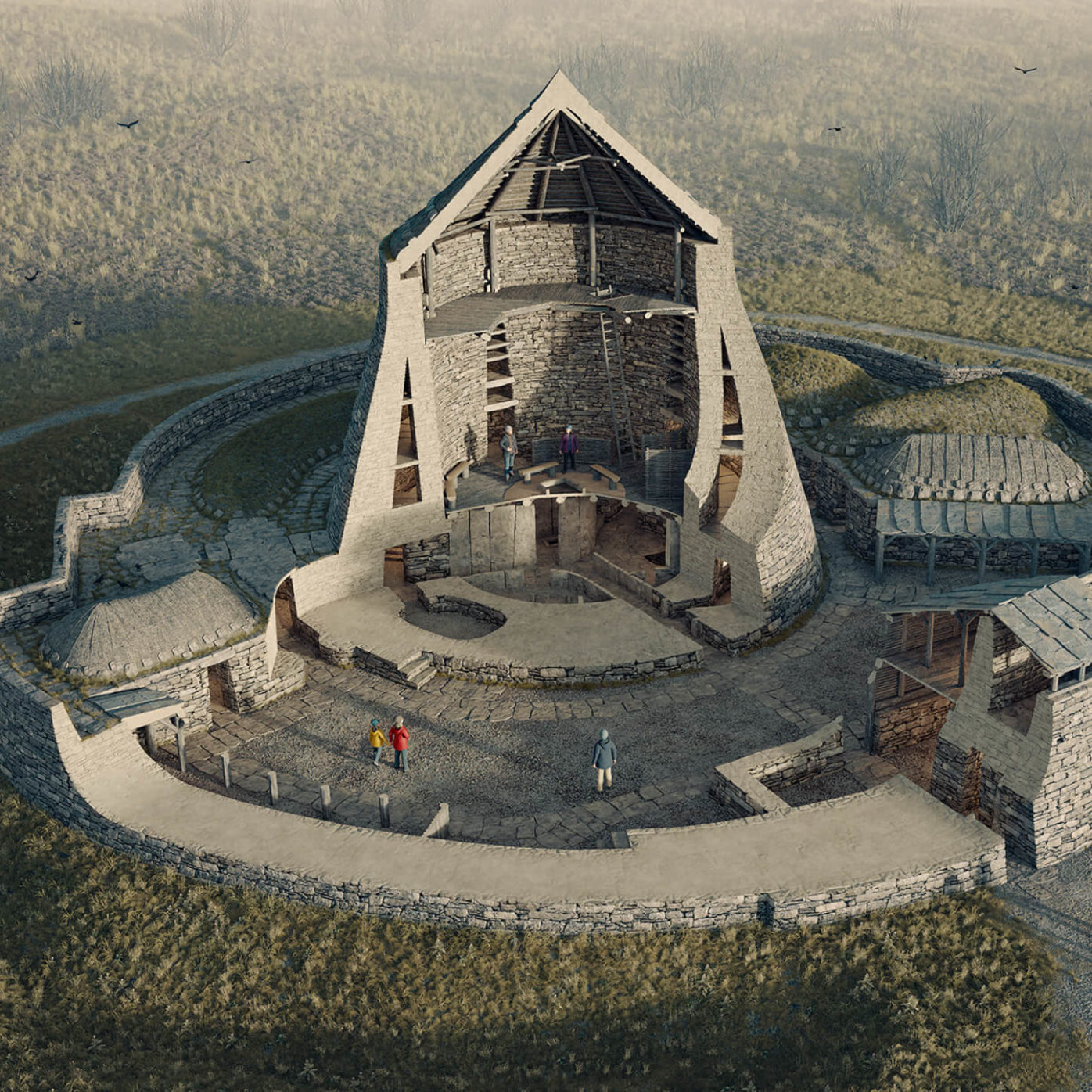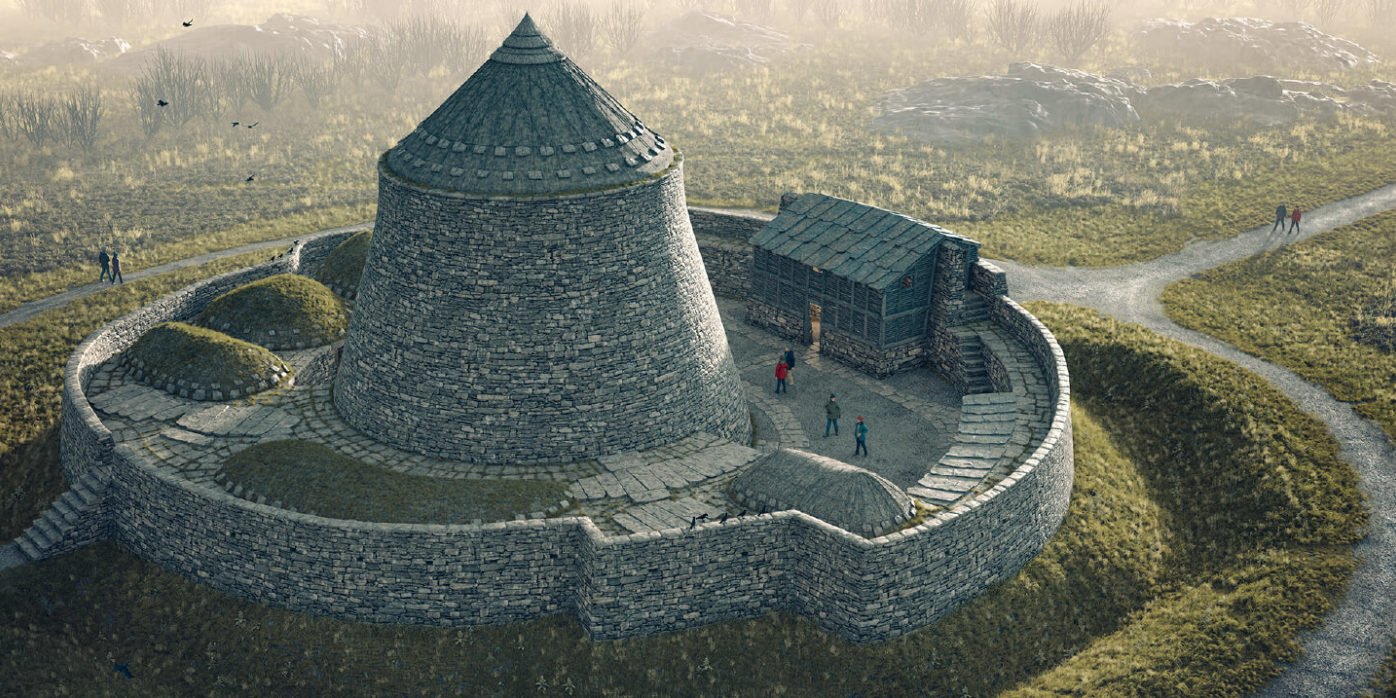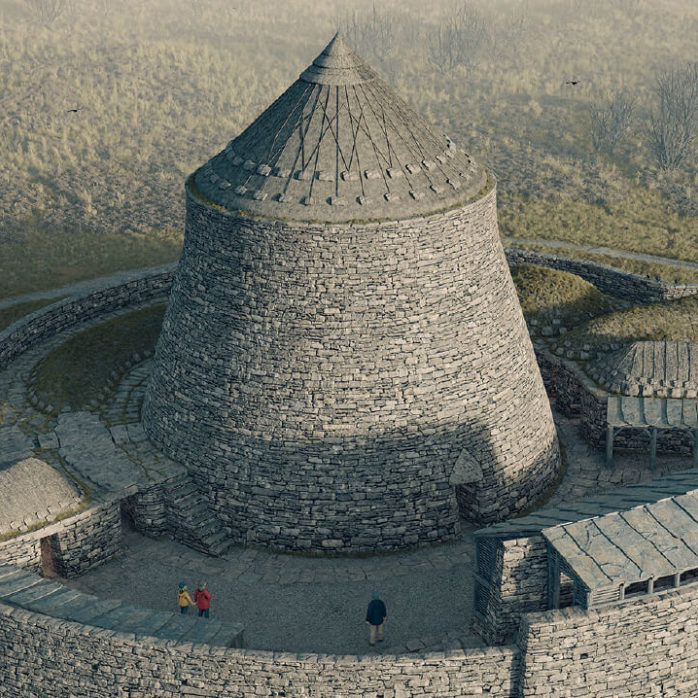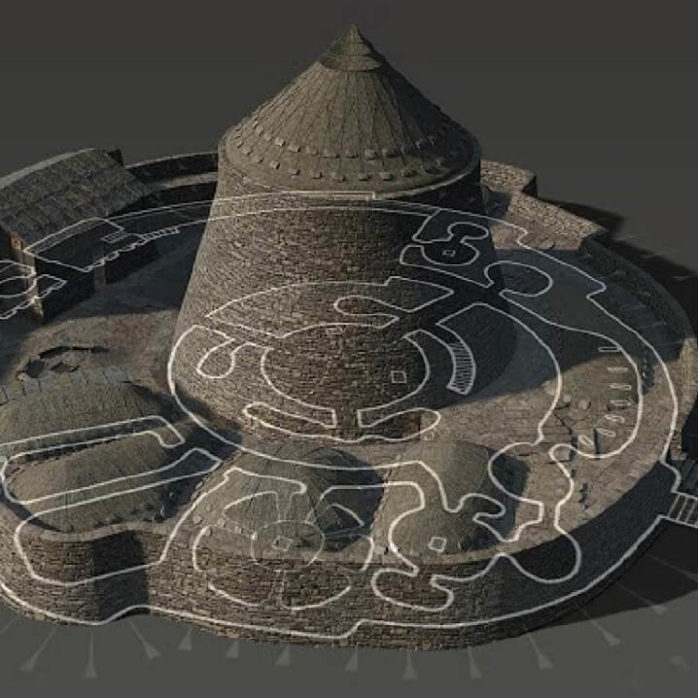 Our Progress
We've already made excellent progress with our 'ultimate aim' over the last seven years, and we are close to selecting a site to build our broch. You can learn more about where we are by reading our blog page.
Currently, we are working with award-winning Hoskins Architects and Jura Consultants on the replica broch project.
The phase we are in is, essentially, a route-map which helps us to define the size and scope of our project, analysing potential issues and challenges, noting what sort of amenities and facilities might be suitable – or not suitable for our project – and mitigating any potential obstacles which we might come up against.
A project of such unprecedented ambition – if we do say so ourselves! - means that there is a lot to understand and to plan ahead for. But though it sometimes moves slowly, it is still incredibly exciting, and we are committed to pushing the project forward, bit by bit, every day.
It's a lot of work – we are all volunteers – so if you would like to help us on our way, why don't you become a Friend for free, a Member if you live in Caithness, or donate below.
Check out our Interactive Broch to see the full details of our design!
You keep the Caithness Broch Project Alive
Your donations large or small help us on our way. The amazing things that happen here are down to you.
Support